Workshops & Seminars
Did You Miss My Talk at the Women Of Wellness (WOW) Conference in February 2013? Click on the play arrow to see the video of it.
Where You can Find Tomasa Speaking:  
Click on the picture above to register for this half-day life-changing workshop –

RSVP by clicking on the picture above.
Tuesday, April 18th, 2017 @ 7 PM at the Santa Monica Holistic Chamber of Commerce, I'll be speaking on the panel about – 
SELF-CARE: HOW IMPORTANT IS SELF-CARE TO A THRIVING BUSINESS? EVERYTHING!!!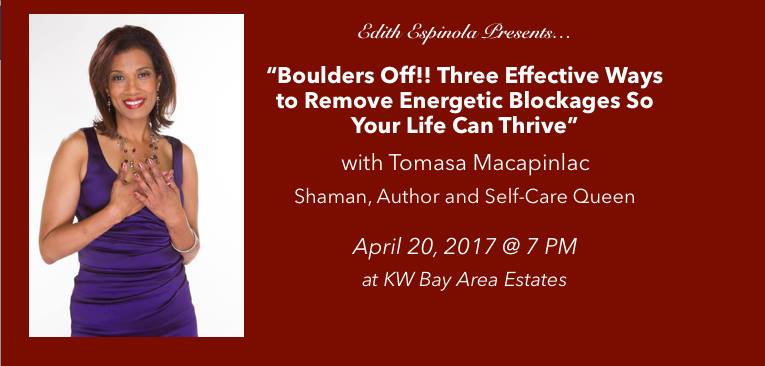 16185 Los Gatos Blvd., Los Gatos, California 95032
Check out the Self-Care Queen's Past Workshops  and Teleclasses:
**Coming Into Prosperous Alignment with Your Soul's Purpose**
A Three Part Master Virtual Retreat Series – May 9-16, 2013
VIRTUAL RETREAT #1:  

Clear Your Crap While Making Room for Abundance
In 75 minutes you will learn:
how to clean up your thoughts and language to reflect what it is that you want in your life
how to clear up the dissidence in your relationships so that you may have an open heart to receive abundantly
how to let go of being perfect in the eyes of society and create healthy boundaries so that you love yourself even when it's against all odds
VIRTUAL RETREAT #2:  

Ignite your Passion to Expand your Wealth
May 14th at 10 AM PDT/12 PM CDT/1 PM EDT  Recording No longer Available
In 75 Minutes you will uncover:
What matters to you…and what makes you tick
What story do you have that serves others
How to be an example to inspire
What holds you back so that you can deal with it
What vision would you fight for like a Warrior Goddess
VIRTUAL RETREAT #3:  

Claim Your Treasure Like a Queen
May 16th at 2 PM PDT/4 PM PDT/5 PM EDT  Recording no longer Available

In 75 minutes, you will learn:
The 4 Keys to Unlock Your Queendom
How to Open Your Heart to Receive
How to Recognize your True Source
Why Finding Your Soul's Purpose is Important
Why Setting Specific Written Goals is Important and How to Do It
*Ultimate Rejuvenation VIRTUAL RETREAT for the "BIZY" Woman*
In 75 minutes, You'll discover:
√

 How you can build mini-vacations into your life so that you don't burn out
√

 A quick and EASY movement that will help you release stress immediately.
√

 How, when you apply this secret, you will be able to take a huge weight off of your shoulders and look and feel 20 pounds lighter.
√

 How this one activity generates answers (downloads) for you, so you find solutions with EASE
Location: from the comfort of your home, perhaps your bathtub or your yoga mat, or anywhere you feel that you comfortable
Date & Time:  Saturday, March 2, 2013 10 AM PST/12 PM CST/1 PM EST

Click Here to get access to the recording for the Virtual Retreat
*The Ultimate Rejuvenation EXPERIENCE (LIVE) RETREAT*
At this LIVE Retreat, You will:
√ 

 Learn 

How to obtain Peace
√ 

 

Begin to Unravel Your Passion
√  Awaken your Consciousness to Prosperity in all areas of Your Life

Location: San Francisco (East) Bay Area
Date & Time: March 23-25, 2013 – 10 AM – 6 PM (approximately)  Event is Over!
REGISTRATION HERE and get the EARLY BIRD Special Until March 15!
The Five Top Secrets to having Sustainable Vibrant Energy for YOU and Your Business
On this call, Tomasa will enlighten us to…
How inspiration fuels you and is needed to uplevel your business
How to be the STAR that you are here to BE
Plug into Spirit and be the ALCHEMIST
How you can support your METAL element with food and energetic activity
Location: Teleseminar with the Yinpreneur – in the comfort of your home

Date & Time: November 14, 2012 @ 12 PM EST/ 9 AM PST
Click Here to Obtain recording BEFORE NOVEMBER 30, 2012 free of charge!
From Burned Out to Vivacious in 5 Easy Steps
On this call, Tomasa will share how to…
Avoid sapping your energy and sustain vibrant energy
Plug the energy drain that keeps you depleted
Keep your reserves replenished and de-stress
Use the elements within nature to boost your Energy
Date & Time: November 25, 2012 at 12 PM PST/ 3 PM EST
Click here to get access to the recording!
Quadruple Your Energy in 6 Weeks or Less Webinar Series (registration closed)
In this Webinar Series, Tomasa will teach you and practice with you
The New and Improved Vibrant Energy Flows – where you will unblock energies, attitudes, and physical pain to get your energy flowing so that you may have Vibrant Energy and HEALTH.
Date and Time:  Mondays – November 26, 2012 – January 14, 2013 noon PST/2 PM CST/3 PM EST
To learn more about Quadruple Your Energy in 6 Weeks or Less Webinar or sign up for it
Click  HERE to register!
Rejuvenate Your Body, Mind and Soul (registration closed)
Location: San Francisco Bay Area
Date & Time:  November 10-12, 2012 – 10 AM – 5 PM (approximately)
Click Here to Learn More and Sign Up before the EARLY BIRD Special ENDS on October 10!